Hellooo~ Another new member of Japan Brand Online!!

I came to Japan last Novemeber to explore The Land of the Rising
Sun - Samura/Ninja/Anime/JPOP/Technology/Sakura Blossom/Sake, etc etc..
Originally I'm from this little country called New Zealand (2 small island southeast of Australia) also
known as 'The Land of the Long White Clouds', many may now know it's the country where they
made "Lord of the Rings" by this fella called "Peter Jackson".

Japan has been pretty exciting, i get my random FREE daily massages by them 4/5 earthquake tremors!
According to the weather forecast last night, it'd be supposedly warmer from now on, so that was
why i thought it'd be SPRING SOON~!!
Well, here's something you definitely don't see everyday, even in Japan!
"JAPAN'S FIRST FRESH BANANA VENDING MACHINE~!!!"
Will write again~!
大家好! 我是网上日本牌的新人叫小周。
我是去年11月底来日本的,对日本的漫画,技術等等有兴趣。
我本来是从新西兰来的。 在奥州的东南方的两个小岛就是新西兰,对新西兰人来说新西兰有一个特别的名字叫"长云的国家"。
现在很多人都应该知道"指环王"是新西兰的彼得·杰克逊拍的电影。
来了这么就,日本到现在都很有趣 大楷每一天都有免费按摩 哈哈- 我是说那些小地震。
昨天的天气预报说都暖了吧,所以我才以为快春天了呢!
这个是日本第一台新鲜香蕉自動售貨機! 在哪也看不到噢!
这次就先写道着吧!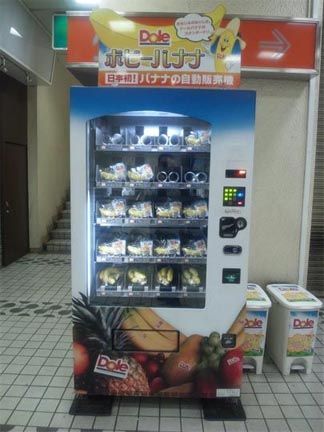 Read More